Harry Gesner's Malibu Sandcastle
— Unique Beach House For Sale
A remarkable story unfolds in the shape of a sandcastle along the shore in Malibu California. This unique creation is a home brought forth from reflection and vision, unified in the undulance between the spiritual and material realms of nature and art.
The rarest gift now presents itself in the opportunity to steward this legacy estate with privacy, incomparable character, and singular style into your next horizon. Listed at $22,500,000, you can become the next steward of Harry Gesner's Malibu Sandcastle home and it's legacy.
Interested in the Harry Gesner Sandcastle House?

Give me (David Clark) a call at 310-231-6544 or
email here at david@shelhamergroup.com
"I made a big promise in WWII that if I survived, I'd do something great with my life, and not waste it. Architecture is one of the best expressions a man can exhibit—to make life better for the human experience." - Harry Gesner's Malibu Sandcastle
Born in Oxnard to an engineer father and an artist mother, Gessner learned to fly a plane at 14, stormed the beach at Normandy aged 19, and than went off to work as a waterski instructor in Lake Arrowhead. He turned down an invitation from Frank Lloyd Wright to study at Taliesin in favor of being a tomb raider in Ecuador, squired models and actresses, fraternized with Errol Flynn and Marlon Brando, all while surfing every day into his late '80s.
This tranquil Western Malibu oceanfront property with 122 ft of shoreline is as iconic as the late Gessner himself. According to Gesner, "a dream place, built with love." When the young architect set out to build his family home, he had big ideas, little money, and an abiding passion for the natural beauty of the secluded cove with a nearby surf break and an empty plot right next door to his most famous building, Wave House. With a roofline inspired by a sandcastle, Gesner was determined to build a home that would fulfill what turned out to be a lifelong philosophy: "You have to have a view. You want perspective to your life."
Interested in the Harry Gesner Sandcastle House?

Give me (David Clark) a call at 310-231-6544 or
email here at david@shelhamergroup.com
The Sandcastle's texture was determined in part by the materials he salvaged as an early evangelist of sustainable construction: telephone poles, reclaimed bricks, wall panels made from aqueduct pipes, birds-eye maple from a high school gym, old-growth redwood harvested in the 1800s, and windows and doors saved from one of Hollywood's silent film theaters. As Gesner once said "The spirit in the design and materials are what you immediately feel in this house.
Our local Angelenos The Red Hot Chili Peppers filmed their hit song Road Tripin' for the Californication album at Harry Gessner's Malibu Sandcastle.
"The people who enter and spend a brief period or long time here immediately feel at home and relaxed. The experience never becomes commonplace or boring because over everything is the sound and rhythm of the waves breaking on the shore in front of the house."
With massive spoke-like beams and a wood-plank ceiling, the heart of the main house is a window-wrapped space that comprises generously scaled living and dining areas with an enormous brick fireplace at its hub. Inspired by the Hollywood Bowl, Gesner built the fireplace as a stage for his wife, actress Nan Martin, with a huge polished concrete hearth. A lovely solarium with stained glass panels flanks the dining area, and the ocean views enjoyed from the interior areas extend to the wraparound deck just outside.
"Round design is one of the easiest and best ways to build, since you don't lose valuable space or sacrifice having a strong structure. "Everything else in the universe is round and exists in cycles—plants, the sun, the way the planets orbit." - Harry Gesner's Malibu Sandcastle
Echoing the cylindrical shape of the house itself, the kitchen wraps around a circular island and has tile countertops, stained glass lunettes fitted into the beams overhead, a fireplace, updated appliances, a breakfast bar, and a walk-in pantry.
Gesner's Malibu Sandcastle's main level are two en-suite bedrooms, one with built-ins suitable for an office. Upstairs is the primary suite tower, with high ceilings, huge beams, charming eyebrow windows, a brick fireplace, an ocean-view sitting area, and a spiral staircase with handmade driftwood treads leading up to a studio and loft space.
Additional structures include an ocean-view "tree house" apartment with a kitchenette, living room/dining area, bedroom, bath, and wraparound deck.
The home also has what is referred to as the "boat house" with a full kitchen, ocean-view living/dining room with a built-in table and porthole windows, a full bath, and a bedroom; and another one-bedroom apartment "nest" with ocean view and stained glass above an indoor/outdoor cabana. There is also an open-air living area, deck, and teepee-covered daybed.
The approximately 0.73-acre property has a three-car garage and additional parking platform, a covered deck, a brick patio, lawn, an outdoor shower, surfboard and other storage areas, steps to the beach, and multiple vantage points for breathtaking sunset views. Sandcastle, which will be sold as is, has abundant outdoor space.
"The story of the Sandcastle begins with a man who has lived a life filled with adventure. Born in 1925 and raised in Southern California, he grew up surfing as much as he could. Along with serving in World War II, he also spent time as a television cartoonist in New York, an archeologist, water skiing instructor, and a seeker of challenges. His love for surfing and the ocean has continued throughout his entire life and has become a vital inspiration for his architectural work."
"After he returned from the war, he studied architecture at Yale University, where he grabbed the attention of Frank Lloyd Wright, the acclaimed architect who was teaching there at the time. Gesner turned down an offer to study under Wright and instead, decided to discover his own path by taking ten years to learn from a number of tradesmen throughout the building industry—including carpentry and stonemasonry. He began requesting to work as an apprentice on building sites and learned firsthand through these experiences."
"Gesner went on to design some of L.A.'s most unexpected, memorable structures that truly capture the essence of Southern California architecture—including the Scantlin House, Stegel House, Triangle House, Cole House, Eagle's Watch House, the Hollywood Boathouses, and the Wave House that sits directly next door to the Sandcastle. The Sandcastle was first imagined when he proposed to his wife Nan Martin, a Broadway actress working out of New York City at the time. He promised her that if she married him, he'd build her a house right on the sand in Malibu—she said "yes." He created a round structural design that's inspired by a sandcastle and centered around a substantial brick fireplace. He couldn't afford to have someone build the house for him, so he built it for himself. He used salvaged materials from forgotten buildings or junkyards including redwood, telephone poles, brick, and maple. This speaks to his strong belief that we should do everything we can to reuse and repurpose natural materials in order to take care of this earth. He pointed out, "Redwood is nature's permanent wood. It's forever."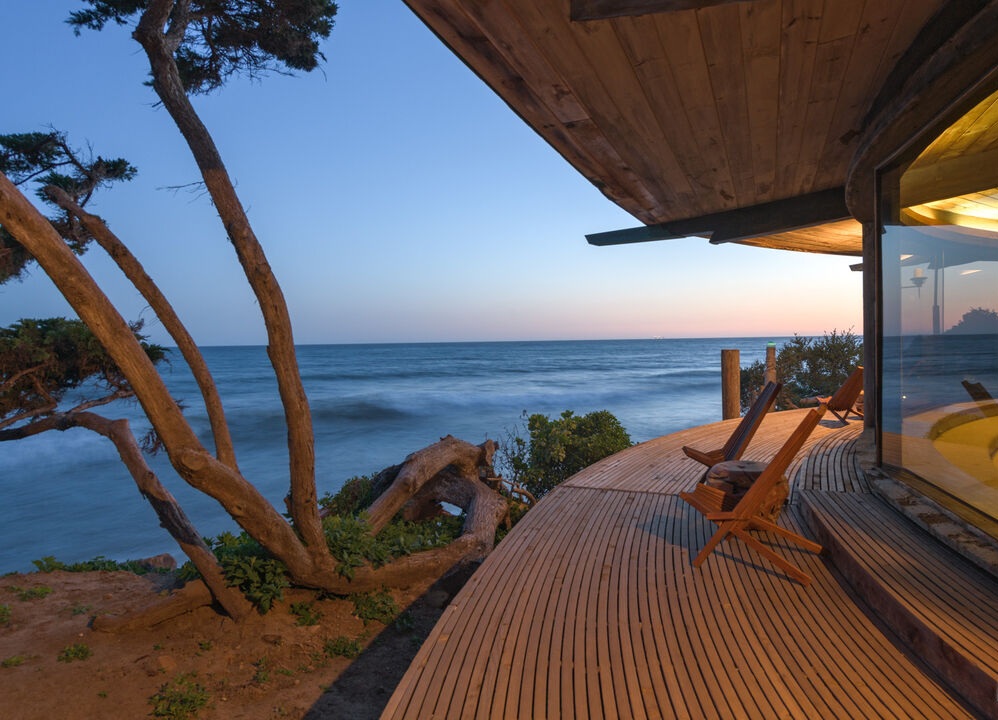 "While he was gathering the resources to build the house, he encountered multiple examples of abandoned constructions in the area where he was able to gather forgotten materials. Specifically, he discovered a large amount of brick from houses that had collapsed in a recent earthquake. He also created panel walls made from aqueduct pipes from another project he was working on in Northern California. He found marble from public baths that were about to be demolished, and the Birdseye maple floors were found in a high school gym that was destroyed by a fire. Finally, he personally collected doors and windows from an old silent film theater that was closing on Hollywood Boulevard."
Harry Gesner's Malibu Sandcastle home is now being offered for sale for the first time, with an asking price of $22.5 million. Representing the listing are noted Malibu specialist Chris Cortazzo and fellow Compass agent Zen Gesner, who also happens to be Harry Gesner's son.
Christopher Cortazzo
CALDRE #01190363
Zen Gesner
CALDRE # 02055370
Reach out to me for the opportunity to tour this historic and exemplary Malibu California property.
Meet Your Next Real Estate Agent
A Californian born here in Los Angeles, David has spent his whole life in California. As a top graduate of the AACSB internationally accredited California State University of Los Angeles School of Business and Economics he has accelerated his career as a residential real estate advisor combining his passion for California history, writing, architectural preservation, and extensive sales background.
David is a Senior Real Estate Specialist (SRES®) holding certifications in Probate and Trust Sales and Accessory Dwelling Units. His marketing and negotiation skills, joined with community outreach have helped him build a solid reputation with his clients.
Recently he represented a record breaking sale for the most expensive home ever sold in Echo Park at 744 Sq. Ft. On the buying side, he knows the terrain, from negotiation, strategy, emerging markets and the geographic pockets where the hidden gems lay. He continues to empower his clients with this knowledge, helping them get closer to building wealth and financial independence.
When David isn't listing or selling some of California's finest homes, he turns his focus to early 20th Century California antiques and collectibles. His e-commerce business Golden State Decor on Etsy which celebrates the rich history of the Golden State with one of a kind procured items, while contributing directly to the California Conservation Corps Foundation.